June 19, 2017 - by: Naomi
Erotic fiction inspired by Michelle H and Kira Zen in "Angels"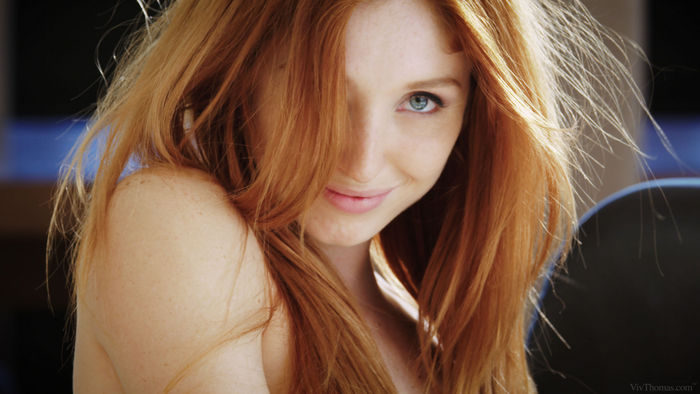 I love meeting up with Evelyn, my bestie. When I say bestie, I mean best fuck buddy; I have a lot of close friends who I would never dream of screwing, and then I have friends like Evelyn…
Evelyn's one of those girls who oozes sex appeal: long legs, gorgeous red hair, a slim waist, perfect ass and knockout breasts. Every time I see her, I find myself mentally undressing her. Most times I see her, I end up actually undressing her.
Last time we got together, she had called to ask if I'd go view a rental apartment with her. I suspected we'd end up going back to her place to fuck, but I thought she was genuinely interested in my opinion because I know the area better than she does.
When I arrived at the apartment block I texted her and she told me to head up to the apartment, she was already there. She buzzed me in; I expected to find her there with the real estate agent, but when she opened the door she had this wicked, playful look on her face, and it turned out she was alone.
"What are you up to, girl?" I laughed.
"Nothing!" she protested. "I wanted you to come and look at this place with me. I like it but I need a second opinion."
I almost believed her when she led me around the place, showing me each room, then heading back into the living room.
"Check out that view," Evelyn said, climbing up onto the coffee table and craning her neck to stare out of the window. She was right in front of me, wearing pants that hugged the curves of her ass beautifully, and a loose, shimmering sleeveless top. The coffee table was high enough for Evelyn's ass to be right in front of my face and I couldn't help but duck down a little to check that – yes! – she wasn't wearing a bra. Her lovely titties were free, her nipples just grazing her top.
"Yeah, that is a fantastic view…" I remarked.
Evelyn looked over her shoulder, both of us knowing exactly where this was going. She fidgeted the button of her pants open and used one hand to slide them off her ass.
"How's the view now?" she purred. She had removed all of her pubic hair and was wearing some kind of pussy jewelry, a clit clip with small diamonds hanging on a thin silver chain. And yet, the sight of her incredible, creamy ass and firm thighs, and the look she gave me over her shoulder were far more tantalizing.
"Unbeatable," I breathed, coming closer to her, squatting down behind her. I had to eat that pussy, right now.
Reaching out, I placed my hands on the back of her thighs and put my mouth up close to her pussy, letting my breath warm her lips and clit. Dipping my head down, I flicked out my tongue to catch her diamonds and suck them between my lips, feeling them pull gently on her hood. Evelyn reacted, pushing her booty back at me, and I let the gems fall from my mouth to slide my tongue all the way along her pussy, tasting her as her lips spread open and her juices flowed from her hole.
I took a moment to look at her, to enjoy the sight of this sexy woman laid bare in front of me, and marvelled at how much of a fun fuck she was. She was watching me over her shoulder with that sexy smile and naughty look in her eyes and it made me wet.
Back in I went, to suck on her clit clip some more, to pull all of her nub into my mouth and make her groan with pleasure. I spanked her once, just a little, just to get her going, then aimed my tongue into her hole and pushed it deep inside her. Evelyn squealed with delight and reached back to grab my head, grinding back against my lips.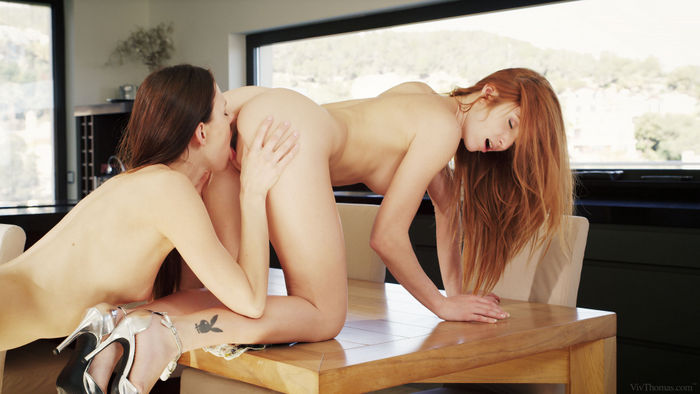 By now I was too horny to stay down on my knees like this. I had to stand and get a hand inside my own pants. I got up and let my pants fall to the floor and Evelyn bent a foot back to rub against my panties, giving my clit a thrill. I grabbed hold of her foot and held it tight against my crotch, using her toe to fold my panties aside and then pushing it between my lips.
With my free hand, I went back to Evelyn's awesome ass and spanked her one more time, then squeezed her ass cheek and let my fingers curl around to her pussy. I fed one and then two fingers into her and she bucked back against me. Her thrusts meant her toe was grinding against my clit and now we were both getting off hard.
I could control her from here, control how hard she rocked back against me, my fingers fucking her as hard as I wanted her toe to fuck me. It was so hot – my panties were getting soaked with my juices, my hand was slick with Evelyn's and the apartment was filled with the sound of our pleasure.
I didn't know who was going to cum first and I didn't care. As it happens, it was me. The surprise of this quick fuck and the weirdness of it – my fuck buddy up on a coffee table in a strange apartment, with her toe pressed up hard against my clit and my fingers wedged deep inside her pussy – was too much and I shuddered uncontrollably as I came, gripping her ankle and rubbing my clit hard against her foot. When I let go of her ankle, Evelyn dropped her foot back to the ground and really gave it her all, slamming herself hard onto my fingers. I fucked her faster, spanking her again, reaching down to squeeze her clit clip hard around her button, and that threw her over the edge, making her yelp as she came, back arched, head thrown back. It was one of the sexiest things I had ever seen.
"Now that's what I call a view," I laughed as I pulled my fingers out of her.
"So, you think I should take the apartment"? she asked. But we both knew I wasn't talking about the room…
If you enjoy erotic fiction and would like to contribute some of your own, you can email it to fanfiction@metart.com. We don't promise to post it in full, but we will pick out the juiciest bits to share! To see more stories and true confessions, check out our free fiction site, MyErotica.com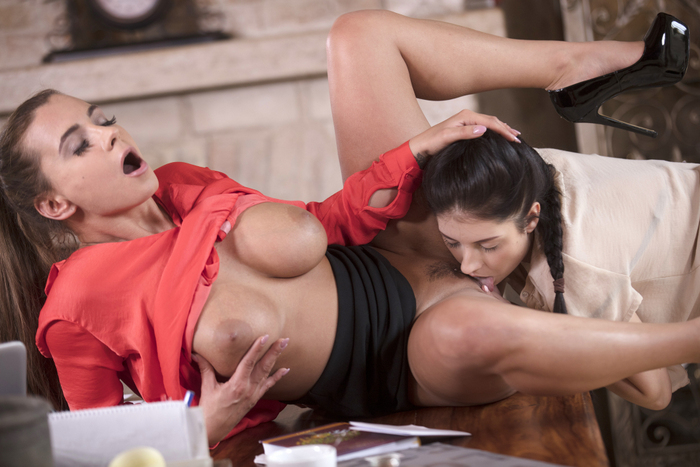 Like a fine wine, Dorothy Black grows more delicious – and more intoxicating – with every passing year. The busty MILF beauty has been a favorite with Viv Thomas members since her starring role in the legendary "Mums and Daughters" back in 2008, and as she enters her fortieth year, looking sexier than ever, she returns to star in a hot new movie directed by Sandra Shine.
"The Assistant" finds Dorothy and her equally top-heavy partner, horny redhead Isabella Lui, hiring some office help. But it soon becomes apparent that they've picked cute brunette Rebecca Volpetti for her looks rather than her non-existent skills. Dorothy is first to fall for the naughty flirt's charms, but Isabella isn't far behind; luckily this complicated lust triangle has a simple solution…
"The Assistant" was inspired by the classic series "Office Girls," and the plot was devised by Viv Thomas member Renegade, who wrote the script for "Love Match" back in 2015. With the emphasis firmly on fun, passion and red-hot pussy eating, it's a playful and very arousing tribute, with all three of the cast sharing a seemingly insatiable appetite for sex. And if you've seen gorgeous Dorothy in action before, you'll already have realized this is the must-see movie of 2017.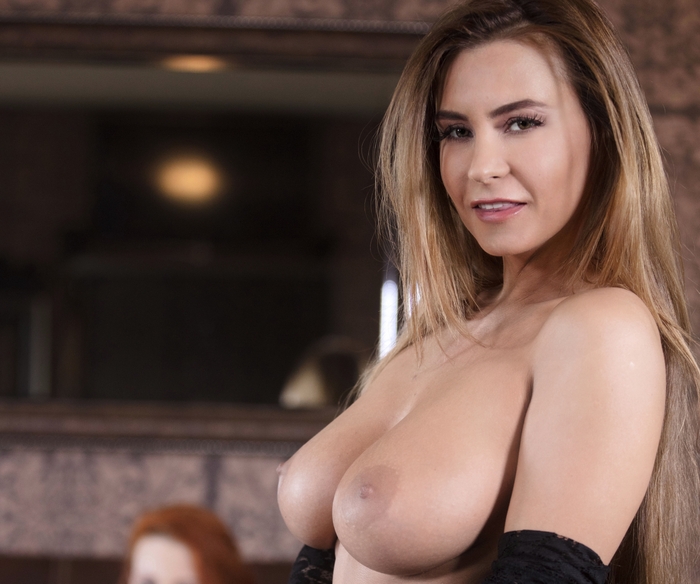 June 05, 2017 - by: Naomi
Erotic fiction inspired by Nancy A and Chelsy Sun in "Sandra's Sporty Girls"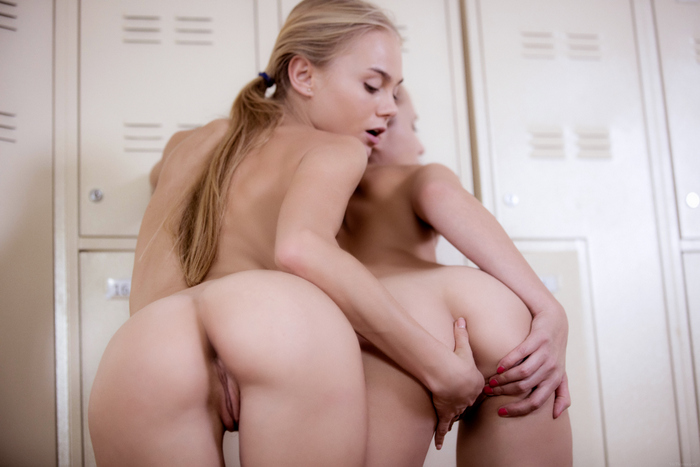 Shelly and I had been playing racquetball together for a few weeks before it happened. Twice a week we'd take a long lunch break, hit the court and get a game in. Neither of us was particularly good, but we had fun playing, and it broke up the monotony of a day in the office.
Shelly was the first person to befriend me and stop treating me as the 'new girl.' I liked her a lot; and I'm a sucker for a good-looking woman in a business suit. But one thing I like even more than that is a sexy woman in tight yoga pants, her skin glazed with a fine sheen of sweat. Okay, I'll admit it; when Shelly suggested we play together I jumped at the chance, not because I'm really into sports, but because I couldn't help imagining how hot she'd look all sweaty and flushed. And the reality was even hotter than I'd pictured.
I didn't expect anything to happen between us, I was just delighted to see her looking so damn sexy. The days we played would end with me going home and jilling myself silly thinking about her body.
And then, totally out of the blue after an exhausting match on a hot day, Shelly joined me in the shower. And I'm not talking about a communal shower, either; this was a private cubicle. There was no mistaking her intent.
I didn't even notice her coming in as I had my head under the water, eyes closed, but then I heard the door close again and she said, "I know you want this. I've noticed you watching me on the court. I want it too…"
I almost jumped out of my skin. Before she came in, I had been stroking my clit, my head full of filthy fantasies as I imagined bending her over on the court, pulling her yoga pants down and burying my face in her ass and pussy.
Shelly's hands wrapped around my waist, sliding over my hips and up to my breasts; she squeezed them, and pinched my nipples. I turned around and kissed her hard, our tongues tangling.
She pulled away for just a second and looked deep into my eyes, then slipped her hand between my thighs to feel my swollen clit and slide a finger between my lips. A flash of recognition appeared on her face as she realized I wasn't just wet because of the water, and then she sank two fingers inside me and pushed me back against the wall.
I bit my lip – this was all happening so fast, and far from being freaked out by it, I was incredibly turned on. I leaned back against the cubicle wall, pressing my hands up against it and tilting my head, spreading my legs open further, needing to feel Shelly's fingers fuck me harder.
With one hand on my pussy, Shelly began to grab at my tits, squeezing and kneading them, pulling on my nipples, making them stiff. She was getting me off really fast; by now I wasn't able to keep quiet and little gasps and moans kept escaping from my open mouth.
Shelly sensed I was close to orgasm and her hand slipped around the back of my head. She pulled me close to her, two fingers still fucking my pussy, palm pressed hard up against my clit, and stuck her tongue into my mouth, kissing me hard and dirty as I moaned into her mouth, cumming with a serious sexual force.
"What were you thinking before I came in?" she asked, fingers still inside me.
"I was thinking about you bent over and me stuffing my face into your pussy and ass…"
She laughed a little and turned around, bending over just enough for me to squat down behind her and do exactly that. Shelly had a hairy pussy, trimmed enough for me to be able to see all of her lips and clit, but with plenty of hair around her twat. She tasted delicious.
I ate her out, my nose pressed hard against her asshole, her hand in my hair, keeping me pressed up close. She practically fucked my face like this, grinding her cunt into my mouth as I tried to get my tongue as far up inside her as I could. I tongued her ass and pussy, clit and crack with long, voracious licks. When she was ready to cum, her hard grinding got faster and faster and her grip on my hair got tighter.
"Oh, fucking yeah!" she cried when she came, her legs spasming a little, her pussy smashing into my face. She let go and stood up straight again, letting out a little laugh of satisfaction.
"That was great," she said as we kissed. "We should do this again."
You're damn right we should. And we have been. In fact, these days we spend about five minutes on the court before diving into the locker room. We mostly fuck in the shower, but some days we are brave enough to fuck on the bench in the locker room. We haven't been caught yet, but the risk adds even more spice to our fun. Our coworkers often remark on the healthy glow we have when we finally make it back to the office!
If you enjoy erotic fiction and would like to contribute some of your own, you can email it to fanfiction@metart.com. We don't promise to post it in full, but we will pick out the juiciest bits to share! To see more stories and true confessions, check out our free fiction site, MyErotica.com
18 U.S.C. 2257 Record-Keeping Requirements Compliance Statement.

Warning - This site contains adult material of a sexual nature - you must be of legal age in your area to view this material.
All materials on vivthomas.com, are copyright © 2019 vivthomas.com. All models were at least 18 years of age when photographed.
0.24.0 41af34