April 24, 2018 - by: Rose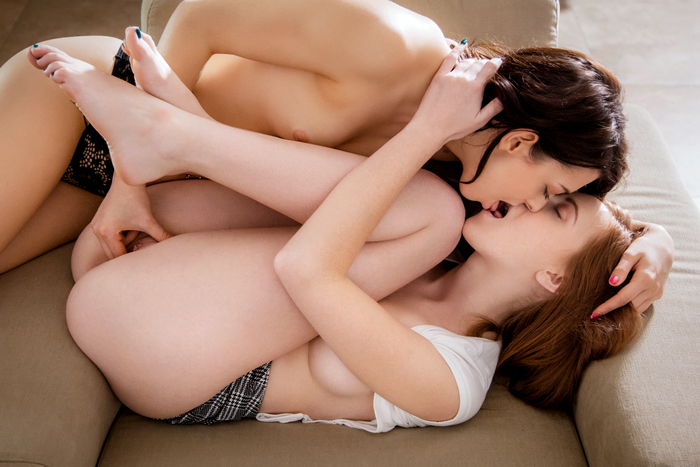 Flirting, sexting, sending dirty pics – mobile phones play a key role in any modern courtship, especially when it comes to passionate lovers who can't stop thinking about each other 24/7. The sensational "Sex Message" series of movies from director Andrej Lupin and producer Ariel Piper Fawn has explored this playful mode of foreplay to exciting effect, and with "Sex Message IV" we have four delicious new lesbian encounters to delight you.
Brazilian beauty Francys Belle kicks things off in episode one, sexting with adorable Jenny Ferri before they get their eager hands and tongues on each other, fucking to some very intense orgasms. Busty 18-year-old sweetheart Angel Princess makes her Viv Thomas debut in episode two, licking sexy Dominica Phoenix's shaved pussy and tight ass voraciously. Episode three pairs another new model, gorgeous Stacy Sommers, with hot brunette Ally Style for some juicy oral pleasuring and fierce finger-banging, while episode four sees stunning redhead Linda Sweet go to town on irresistible newcomer Tera Link, in one of the stand-out scenes of the year so far.
With naturally beautiful babes who share genuine sexual chemistry enjoying each other's body without inhibition, "Sex Message IV" is a highly arousing new movie you certainly won't want to miss!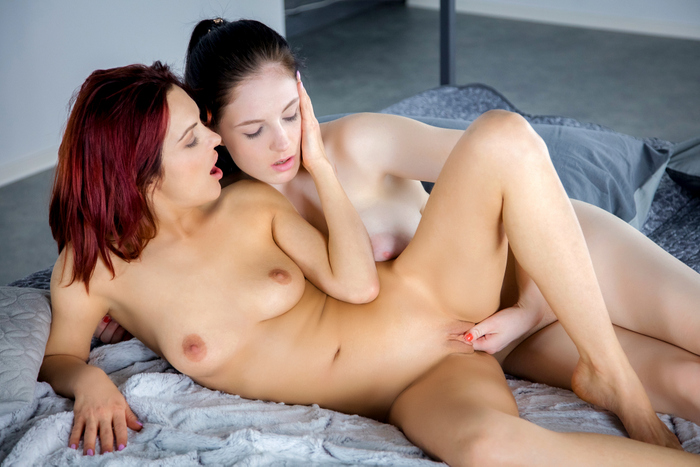 April 18, 2018 - by: Jilian
Erotic fiction inspired by Shrima Malati and Jenny Ferri in "Intimate Touch"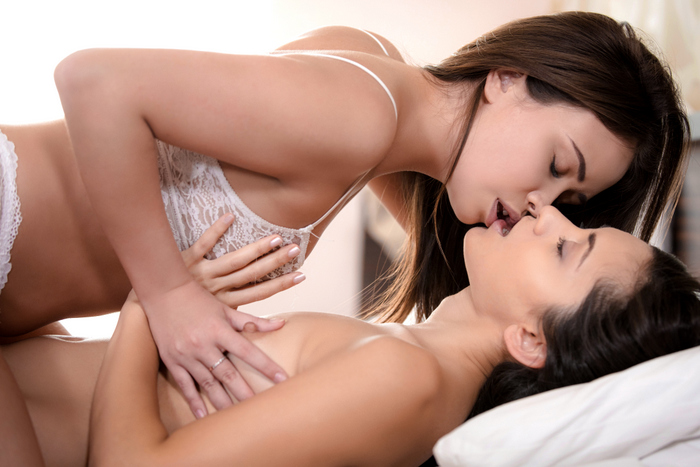 Lesbian lovers Shrima and Jenny are only in their early 20s, and still exploring their sexuality together. They're a fun couple and love experimenting and trying new things.
What began as some fooling around in the bedroom on a hot summer afternoon escalated into one of their most erotic experiences. Shrima was lying on the bed in her panties, staring at her phone, taking selfies and editing them for fun. She was so engrossed in her phone that she didn't notice Jenny standing in the doorway of the bathroom. Jenny watched her slender, sexy partner, eyes raking over her body as Shrima wriggled on the bed, lifting one leg and then the other. Jenny found herself getting aroused by the sight of Shrima's tight white panties, bulging around her pussy mound.
Jenny crossed to the bed and climbed on at the foot as Shrima looked up from her snaps. The prone brunette smiled as her lover crawled in bra and panties to straddle her thighs.
"Let me take a picture," said Jenny, reaching out to snatch Shrima's cellphone from her hand.
"Hey!" Shrima complained, laughing, trying to grab her phone back.
"Uh, uh," Jenny admonished, holding the phone above her head and wrestling Shrima's hands back. "Not until I've got some good ones."
Shrima clasped her hands to her bare breasts, and pouted for the camera as Jenny snapped away. Then Jenny reached down and pulled at Shrima's hands.
"Come on, babe. Don't be shy…" she coaxed. Shrima giggled nervously and let Jenny pull one arm from her chest, but refused the other. "Don't be silly, this is your phone. Who's going to see them but you?" urged the horny photographer.
Shrima could feel the heat of Jenny's pussy on her thighs, and her eyes involuntarily scanned her lover's body, roaming down over her breasts, to the panty-covered mound that was pressing down on her legs. Was Jenny beginning to rub herself against Shrima? Could she feel her pussy getting hotter?
She let Jenny pull her other hand away and take a picture of her breasts. Then she took her camera back to look at the pictures.
"Now let me take some of you," Shrima said, turning the cellphone on Jenny. Her girlfriend was a much more willing subject, unclasping her bra immediately and posing proudly for the camera.
"Want a close up?" she purred suggestively, leaning over until her nipple was brushing the phone.
"Hey, behave yourself!" laughed Shrima, but she didn't really mean it. She liked it. She wanted Jenny to come even closer, and she pulled her down by the shoulders, dropping the phone on the bed beside her and lifting her face to let her lips meet Jenny's nipple as it came closer to her mouth.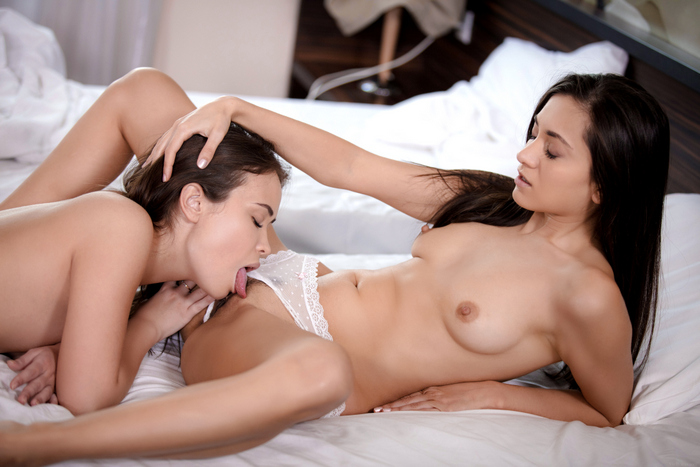 Jenny smiled down at her sweetheart as Shrima licked her nipple and sucked it gently into her mouth. She could feel it stiffen and pressed herself further forward, wanting Shrima to suck harder. Shrima sensed her lover's desire as much as her own, kissing each breast, sucking on Jenny's nipples, one hand squeezing. Her other hand made a move for Jenny's ass, caressing her cheeks.
Jenny responded to the touch, grinding her pussy against Shrima's leg, lust taking control quickly. Her hands slid down Shrima's body, fingers searching for her nipples, tweaking them hard, communicating through touch just how horny she was for Shrima.
Shrima pressed her leg against Jenny's crotch, wanting to turn her on even more, letting her know that she wanted her pussy to soak her thigh. Her hand came around to stroke Jenny's pussy through her panties. Jenny sat up, looking down at her girlfriend, smiling and biting her lip. She took Shrima's hand and pressed the fingers harder against her pussy, rubbing herself on them.
Shrima tried to slide her hand into Jenny's panties but it was too awkward an angle for her to do so comfortably, and so Jenny kneeled up and pulled her underwear down as far as she could. Then she grabbed the phone and Shrima's hand, guided the hand to her pussy and began to snap away, taking shot after shot of Shrima's hand as the fingers thrust inside her.
Shrima's fingers were wet with Jenny's pussy juice, and she brought them to her mouth to lick them clean as Jenny captured the moment. It gave her an idea. She took her panties off, then straddled her lover once more, climbing up her body to plant her wet, gaping, smooth-shaved pussy on Shrima's mouth. Shrima wanted to make her orgasm, and eagerly licked her clitoris, sliding her tongue inside the tight, warm slot, trying hard to get as deep inside her as she could.
Jenny could barely contain herself, writhing on her lover's face, trying to control her shaking enough to take pictures; but the sight of Shrima, dark brown eyes staring into the camera, her tongue deep inside Jenny's hole, was too much. Jenny came hard and loud, squeezing the cellphone tight in her hand, unable to tap it anymore.
With her orgasm subsiding, Jenny idly ground her wet pussy over Shrima's mouth, and Shrima continued to lick her slit.
"Mmm, yeah. That was hot," purred Jenny. "I think I'll keep this phone for myself now. These pictures will be great for when you're not around."
Shrima pushed her off and grabbed at the phone. The lovers laughed and bounced around the bed, playful once more.
If you enjoy erotic fiction and would like to contribute some of your own, you can email it to fanfiction@metart.com. We don't promise to post it in full, but we will pick out the juiciest bits to share! To see more stories and true confessions, check out our free fiction site, MyErotica.com
April 03, 2018 - by: Rose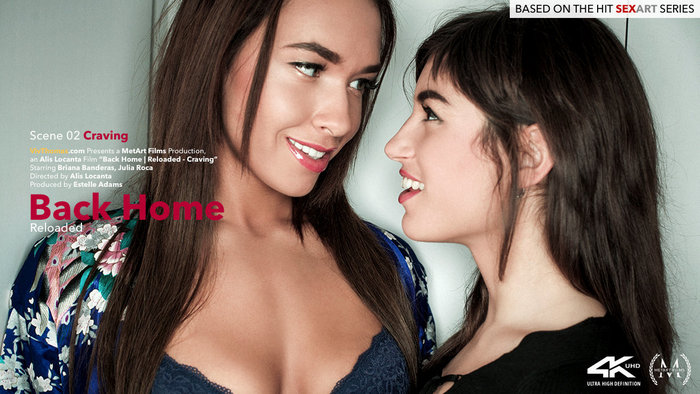 It's been an action-packed month here at Viv Thomas, with so many gorgeous girls ushering in the Spring in sensationally sexy style. Andrej Lupin's glamorous "Redolence" concluded with the foxy foursome partner-swapping voraciously, while Sandra Shine's "Intimate Touch" brought together two of the most irresistibly cute girls around, Shrima Malati and Jenny Ferri.
Alis Locanta's "Back Home Reloaded" has been a spectacular success, due to both his unique creative eye, and his excellent taste in models. Episode two, with stunning Julia Roca and hot new star Briana Banderas, is an erotic masterpiece – two high-energy, uninhibited girls driving each other to noisy orgasms with busy fingers and tongues, I defy anyone not to be moved by this perfect pairing. It's certainly one of my favorite scenes of the month. And it's rivalled for sheer intensity by episode three, which reunites leggy beauties Aruna Aghora and Alyssia Kent, both so elegantly sexy and yet utterly committed to giving each other pleasure.
The other new movie of the month is Sandra Shine's "Foot Addiction," a real eye opener for anyone who thinks foot and leg fetish fun is not their thing, and a surefire hit for anyone who already knows they love it. Sandra's secret, learned from the king of leg sex Viv Thomas himself, is to combine all the toe sucking play with superb pussy eating. Episode one, starring knockout blonde Zazie S and dusky Hispanic honey Aysha, is particularly fine, as Zazie rides Aysha's big toe to a powerful climax. It's another of my top picks, playful and sweet but also highly arousing.
What was your favorite Viv Thomas scene of March 2018?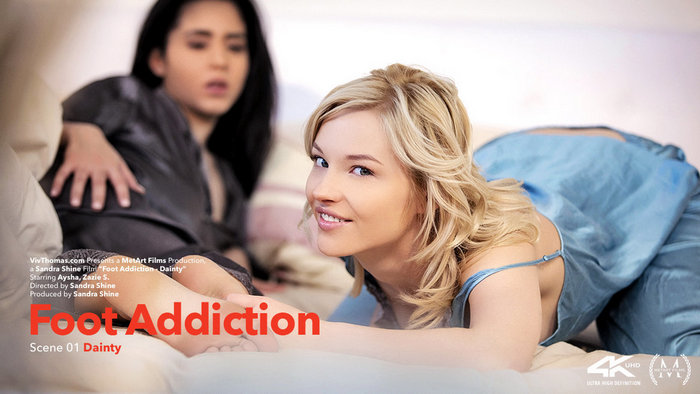 18 U.S.C. 2257 Record-Keeping Requirements Compliance Statement.

Warning - This site contains adult material of a sexual nature - you must be of legal age in your area to view this material.
All materials on vivthomas.com, are copyright © 2019 vivthomas.com. All models were at least 18 years of age when photographed.
0.24.0 41af34