July 11, 2018 - by: Marie
Erotic fiction inspired by Linda Sweet and Tera Link in "Sex Message IV"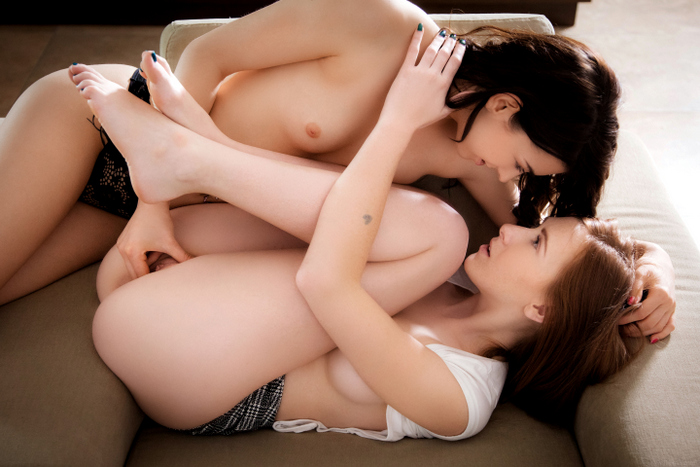 If there's one thing that's guaranteed to get my girlfriend hot and horny, it's sexting. I mean, she will literally jump in the car and speed her way over to my place if I send her a sexy text message. I love how excited it gets her.
Yesterday I was home alone, feeling horny as I looked at some of the messages we'd sent each other. I took off my panties and started stroking my pussy. I was already getting really wet, so I decided to send Tera a picture of my fingers dipping into my slit.
I fired it off to her with the message, thinking of your tongue right here. As I carried on playing with myself I fantasized about just that, Tera's tongue parting my pussy lips, flattening down on my clit and pressing into my juicy hole to taste me. My fantasy was so vivid it was almost like I could feel her tongue on my hot flesh.
I was so into it, I didn't even notice she'd replied to my photo with one of her own, a picture of her car keys in her hand. Subconsciously I knew she would come, though, like I always know. So I wasn't surprised when she walked in, and she wasn't surprised to find me on the couch with my legs spread and my bare pussy so wet my fingers were shiny with my juices. I didn't realize she was there until I heard her speak.
"Now that's quite a sight," she said from the doorway. I opened my eyes to look at her, my heart skipping a beat, and watched as she came close and dropped to her knees beside me. She took hold of my wrist and sucked on my fingers, looking up at me, then pushed my top up to uncover my breasts, squeezing one in each hand and pinching my nipples.
"You called?" she said, smiling.
"And you came," I laughed back. I ran my hands through her hair and pulled her down just enough to let her know that now wasn't the time for talking. She kissed my lips tenderly, then kissed her way down to my pussy and started licking from my hole to my clit – long, hungry licks, eager for my taste.
Tera grabbed me by my ankles and lifted my feet up over her shoulders, spreading me wide open. She murmured with pleasure, planting kisses all over my ass cheeks and pussy. Her tongue roamed all over me, slipping in and out of my ridges, exploring me, gliding down to my asshole.
She was getting me so horny I thought about throwing her down on her back and sitting on her face, riding her hard until I came all over her mouth. But instead I let her do her thing, coaxing me steadily towards orgasm with her clever tongue. I reached down to spread my ass cheeks open and Tera's tongue began to push its way into my asshole. Her fingers went to my clit, rubbing it harder and harder the further she poked her warm, wet tongue in my ass. But it was my pussy she wanted more of, her tongue gliding up to my slit, entering me, licking until I was shuddering through my orgasm.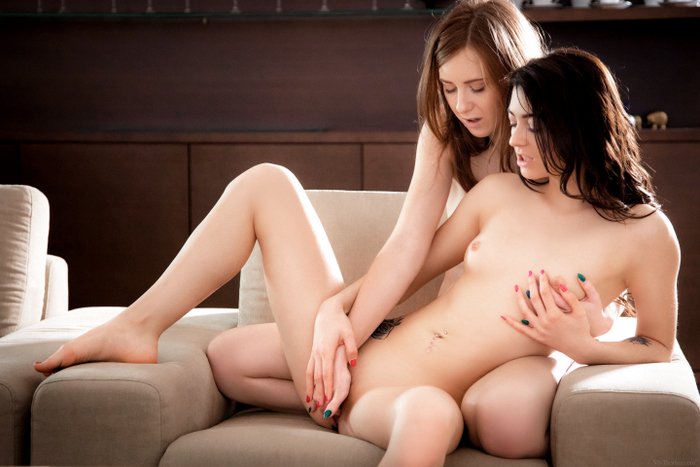 I suddenly felt the most powerful urge to get Tera naked. I wanted to feel her skin on mine. I undressed her quickly; her pussy was right in front of my face, shaved and very wet. I had a little taste, licking at her clit, spreading her juices out from her hole over her plump, juicy pussy lips. I could feel she was just as desperate for sex as me, grinding against my face, squirming and moaning. There was only one position that would do now…
"Lie down," I said. "I'm going to ride your gorgeous face and eat that sexy pussy. Make me cum?"
"Always," she said and I straddled her, my pussy over her face, hers right beneath mine. I love her pussy, love to suck her smooth, fat lips into my mouth and feel her clit throb against my tongue, taste her wet musk. And I love the way she can push her tongue out so far and let me use it, ride it.
I used her for my own pleasure then, riding her mouth and eating her out at the same time until I couldn't focus any more and had to sit up straight and grind down onto her mouth. I made so much noise as I came, yelling incoherently, it was so intense. I don't know how long I sat on her face, but I do know that she kept her tongue pointing straight up for me the whole time.
When I finally regained my senses, I spent a long time toying with Tera's soaked pussy, my fingers tracing her folds and dipping inside, opening her up, teasing her relentlessly enough to make her cum. That's one thing that's special about Tera, she loves it when I play with her. She'll take it and love it when I finger-fuck her, but her favorite turn-on is to lie back and relax while I spend an age teasing her, coaxing her towards a slow-burning climax.
It's so sexy to watch her. She doesn't say a word, barely moves, but when I'm straddling her like this, I can feel her body's reaction, every tiny twitch, and I can tell how hot I'm getting her. It's like her body signals mine when I've hit the right spot, and then I stimulate that spot until she can't take it anymore.
This time, it was when I took each pussy lip between a finger and thumb and slid them up and down, so they squeezed her clit softly between my thumbs right at the top, and then those very same thumbs would slip back down and enter her hole together. Her body tensed and her pussy pushed forward just a fraction each time I touched her clit and thrust my thumbs into her hole.
I worked on her pussy like this for a while, watching, waiting. She came silently, the faintest gasp escaping her lips beneath my gooey hole, her whole body shivering. When she finally went limp and relaxed, I carried on for a little while, sliding my thumbs all the way inside her, before moving to spoon her so we could cuddle through the post-orgasmic glow.
When we finally moved off the couch, I took a photo of her pussy, all puffy and glistening and drenched. I'll send it to her next time we're sexting, to remind her of today…
If you enjoy erotic fiction and would like to contribute some of your own, you can email it to fanfiction@metart.com. We don't promise to post it in full, but we will pick out the juiciest bits to share! To see more stories and true confessions, check out our free fiction site, MyErotica.com
Latest Comments
There are no recent comments
18 U.S.C. 2257 Record-Keeping Requirements Compliance Statement.

Warning - This site contains adult material of a sexual nature - you must be of legal age in your area to view this material.
All materials on vivthomas.com, are copyright © 2019 vivthomas.com. All models were at least 18 years of age when photographed.
0.13.14 f134e5