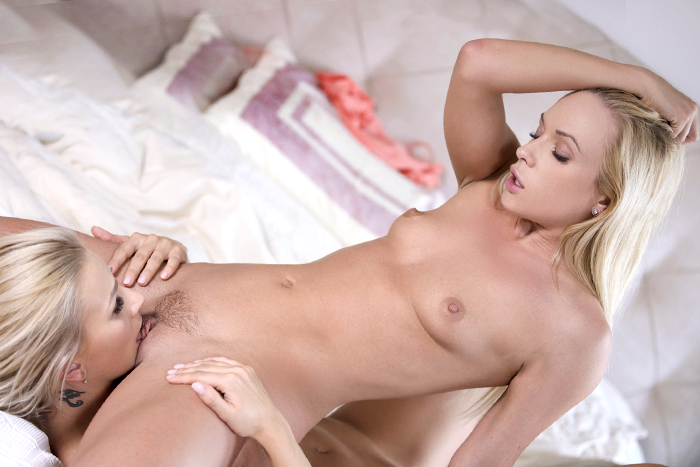 Have you ever played the waiting game with a lover, drawing out the sexual anticipation until you're desperate to touch each other and you just can't keep your hands to yourself any longer? Sandra Shine's sensational new movie for Viv Thomas, aptly named "Tease," features eight gorgeous girls doing just that, driving one another wild with pent up lust before finally giving in to their urge for carnal pleasure.
If you've already watched episode one, starring beautiful blondes Katy Sky and Cristal Caitlin, you'll know the result is explosive, a torrid outpouring of passion that builds to a juicy sixty-nine and plenty of frantic licking and fingering.
Still to come, sexy girlfriends Lilu Moon and Tina Kay are two confident, mature women who know exactly what they want, and being made to wait for it heightens their mutual desire to such intensity it's thrilling to watch. Adorable babes Stefanie Moon and Talia Mint have a blast in episode three, tempting each other to boiling point and then succumbing to a steamy pussy-eating session, Stefanie grinding her cute ass in Talia's pretty face as she gets off hard. Finally, Charli Red and Kalisy are guaranteed to get you hot under the collar in episode four, the stunning redhead keeping her sexy blonde sweetheart on the edge, flirting with her so seductively, licking her pussy and then walking away, leaving her hanging. Kalisy can't resist any longer, so desperate to taste Charli's perfect body and give her the most orgasmic release of all that horniness.
Packed with frantic face-sitting, luscious close-ups of voracious pussy eating and genuine orgasms, "Tease" is sure to have you burning with irresistible urges too! And just in case you want to play the waiting game with your lover, here's the voice over you can hear at the beginning; I wrote it, so you know how I love to play:
I can spend days just thinking about your body, exploring every sweet curve in my mind. I imagine stroking your silky skin, touching every sensitive spot, tracing your delicate lines with my tongue. Just the thought of you brings a smile to my face. The way you light up the room when you walk in makes my heart skip a beat. I always want to kiss you right away, the moment I see you… I wonder how it would be if we held back all that heat and passion and animal attraction and let it build to fever pitch?
Honestly baby, I don't know how long I can keep my hands off you. Resisting that heavenly pleasure we share would be the hardest challenge I've ever set myself. But what a game it would be! I imagine making love would be all the more intense after teasing each other with the anticipation. I'll be so desperate for you… I don't know if I can go for even a day without touching you, tasting you.
Who do you think will give in to temptation first? Will you be just as desperate as I am? Thinking about it makes my pulse race… my heart feels hot and my pussy feels even hotter! My craving for you has already begun…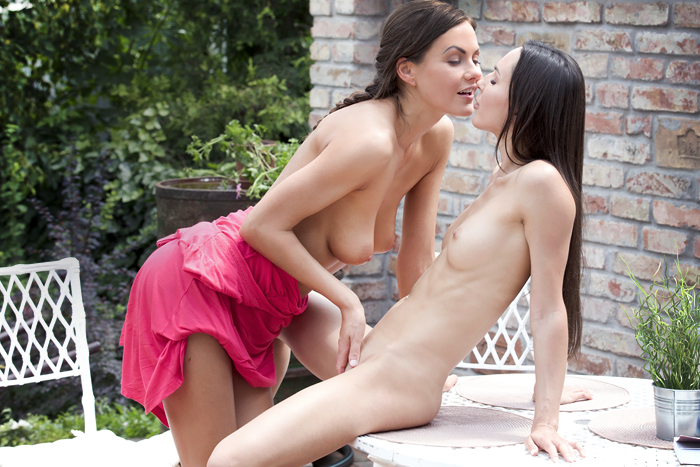 Latest Comments
There are no recent comments
18 U.S.C. 2257 Record-Keeping Requirements Compliance Statement.

Warning - This site contains adult material of a sexual nature - you must be of legal age in your area to view this material.
All materials on vivthomas.com, are copyright © 2019 vivthomas.com. All models were at least 18 years of age when photographed.
0.13.14 f134e5