December 17, 2018 - by: Donna
Erotic fiction inspired by Alexis Crystal and Cindy Shine in "Full Body Massage"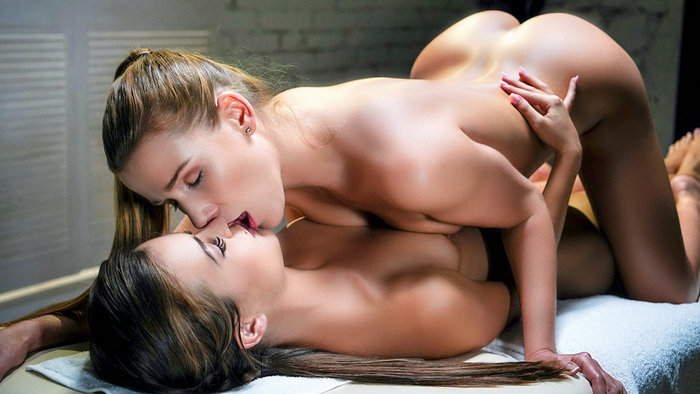 Anyone would melt under Alexis Crystal's touch. Her hands are so sensitive, but it's the way she tunes in to her partner's every shiver and sigh of bliss that makes her such a talented masseuse.
Cindy tries to hold still, but the sensation of Alexis touching her is intoxicating. She can smell the pretty blonde's perfume, feel the warmth of her hands… her eyes flutter open as Alexis pulls away her towel, and she sees the masseuse bite her lip. Is it possible Alexis is getting aroused too? The way her hands linger over Cindy's pert breasts seems to confirm it.
Cindy is in such a trancelike state – relaxed but aroused – that she's not sure if she's dreaming when the limber beauty straddles her on the massage table, squeezing her breasts, fingers teasing her nipples stiff. She knows she's wide awake when Alexis leans in to kiss her gently, then peels off her own top to reveal her pert breasts. Cindy doesn't bother trying to hide her excitement now, as Alexis gets naked and slathers her silky skin with oil.
The effect is mesmerizing, and Cindy lets out a little gasp as the sexy sweetheart squirms against her, nipples brushing over hers, sending a current of pleasure shooting down to her core. She realizes how wet she is, her barely-contained lust now exploding through her as Alexis moves into scissors so they can rub together, pussy to pussy. Hot and wet, they grind on each other, juice seeping out to mingle in a delicious cocktail. And as Alexis goes down to lap it from Cindy's shaved, soaked slit, spreading her open with those sensitive fingers, it seems each girl has met her perfect match…
If you enjoy erotic fiction and would like to contribute some of your own, you can email it to fanfiction@metart.com. We don't promise to post it in full, but we will pick out the juiciest bits to share! To see more stories and true confessions, check out our free fiction site, MyErotica.com
Latest Comments
There are no recent comments
18 U.S.C. 2257 Record-Keeping Requirements Compliance Statement.

Warning - This site contains adult material of a sexual nature - you must be of legal age in your area to view this material.
All materials on vivthomas.com, are copyright © 2019 vivthomas.com. All models were at least 18 years of age when photographed.
0.23.0 0046ce