January 09, 2019 - by: Junkman
Erotic fiction inspired by Stefany Moon and Tina Kay in "Vine 2"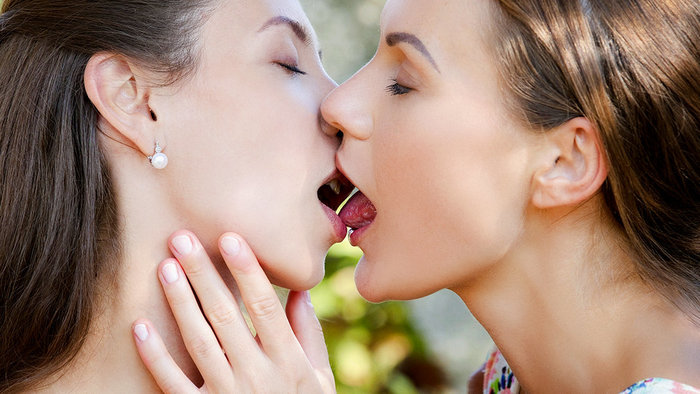 The vineyard spills all its secrets to those with attentive ears. A tractor hums past rows of juicy grapes. Dogs bark at distant birds overhead. Girlfriends moan through smacking lips.
The vineyard's owner, Tina, sets the tone for her workers. Hosting a prospective buyer, Stefany, Tina can't resist fucking her beautiful assistant as Stefany wanders the vineyard unattended. While checking for ripened grapes, Stefany spots a topless woman being chased through the fields by a co-worker. They hide behind a stack of wood and break for pussy.
There must be something in the air or the water. The tannins?
Tina's doing her best to close the deal with Stefany, wearing a sexy summer dress that exposes her thighs – what better way to show transparency? They walk under a porch overlooking the property and spot two more horny workers who become unsuspecting participants in Stefany's due diligence. Katana is too preoccupied with being nose-deep between Sarah's open legs to notice they are being watched.
Tina has to pull a curious Stefany away, finding a quiet spot to talk on a loveseat swing. Tina seems embarrassed and evasive. Stefany has seen the vineyard for what it is.
"I do enjoy it here, the work and the people," says Tina. Her eyebrow takes a devious curve. "And having fun together. I'm sorry I wasted your time."
Stefany startles Tina, dragging her fingertips above Tina's knee. She grabs her by the chin, aligning their lips and surprising Tina with a kiss. She had come to the vineyard hoping to make a deal. Now, she's looking for another kind of transaction. "Maybe we can think about this," she says.
"Maybe we can find a deal that pleases us both?" says Tina.
Tina pulls Stefany's shirt over her head and begins to lick her nipples while sliding her shorts down her legs. The strap of Tina's dress falls off her shoulder, leaving a breast dangling over Stefany's welcoming tongue. Tina's hand lingers over Stefany's pure white underwear, rubbing her slowly.
Stefany rests her back on the swing and Tina sucks on her tits with smacking lips. The top of Tina's dress slides all the way down and she bunches the dress over her hips to feel the breeze over her pussy – this vixen vineyard is no place for underwear. Stefany can barely breathe – it's all exhaling – as Tina kisses and licks her way down her stomach, continuing to rub her clit over her panties. When Tina finally removes Stefany's underwear she finds a shaved pussy that's overripe for Tina's tongue. Stephany moans loudly and clasps hands with Tina, who continues to suck on her, clamping her mouth over Stefany's mound as she works her clit.
Stephany turns away from Tina, placing a knee on the seat and stretching the other over the upper slat. Her shoulder is buried into the seat and she sucks her thumb as Tina freely explores all her sensitive spots, running her tongue between her butt cheeks, lingering over her ass. Stephany begins to finger herself and Tina can't pull herself away from what seems like one continuous orgasm.
Stefany sits up, leaning back against Tina's breasts as Tina strokes Stefany's clit from the front and behind. Her moaning gets louder and then she explodes. Her juices drip down from her as if Tina has crushed a plump grape inside her. Stefany grabs the chains, holding herself up as Tina coaxes every last bit of pleasure from her.
They sit back on the swing chair. Slowly, their minds drift back to the deal. Even after a good orgasm or three, Stefany still seems unconvinced.
Tina is disappointed but understanding. She did not give to receive. And business should never get in the way of a good fuck.
About the author: The Junkman is a contributing writer for the MetArt Network, blending his twin passions for erotic storytelling and high-class porn. He shares a range of musings at JunkPixels.com
If you enjoy erotic fiction and would like to contribute some of your own, you can email it to fanfiction@metart.com. We don't promise to post it in full, but we will pick out the juiciest bits to share! To see more stories and true confessions, check out our free fiction site, MyErotica.com
Latest Comments
There are no recent comments
18 U.S.C. 2257 Record-Keeping Requirements Compliance Statement.

Warning - This site contains adult material of a sexual nature - you must be of legal age in your area to view this material.
All materials on vivthomas.com, are copyright © 2019 vivthomas.com. All models were at least 18 years of age when photographed.
0.23.0 0046ce