February 27, 2019 - by: Rose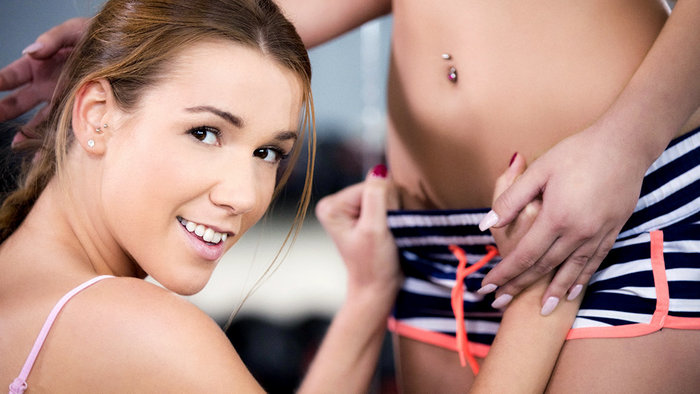 If you're looking for "gymspiration" then gorgeous Alexis Crystal may just be your dream girl. The stunning Czech babe is a force of nature, always bringing maximum intensity to her encounters, and now we know where she gets her energy. In Sandra Shine's erotic movie "Reflections" we see Alexis working out at the gym, flexing her sexy muscles and showing off her incredible physique in skintight yoga pants.
Of course, being an uninhibited babe with a high sex drive, she can't resist the opportunity to show cute novice gym-goer Monica Brown the correct technique for lifting weights. And she's not shy about teaching the correct technique for eating her pussy, either! What follows is a delicious multi-orgasmic liaison as the two horny girls lick and finger-bang each other voraciously, right there on the weights bench.
Things might not get quite so crazy in your gym, but the possibility of meeting a hot honey like Alexis is surely all the encouragement you need to get those muscles working!
February 11, 2019 - by: Junkman
Erotic fiction inspired by Amaris and Katana in "Loving Couples"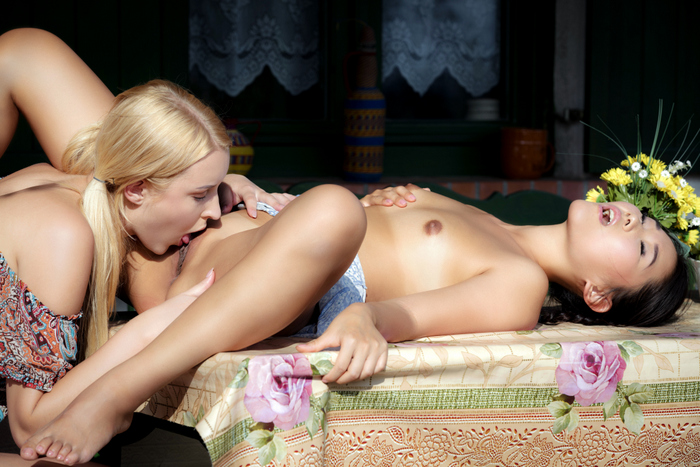 Amaris measures the laziness of a day by the number of pages she flips through in a trashy novel. She curls up on the porch swing, exposing her long legs to a drenching sun.
A tea kettle whistles softly from the kitchen. A few minutes later, Katana emerges from the cabin with an afternoon pick-me-up. She sits down at the picnic table with a tray of tea.
"I was about to fall asleep," says Amaris, walking over to place her hands on Katana's shoulders.
"Why do you think I made you tea?" says Katana.
Katana plops a sugar cube into each cup and stirs them till they disappear. Katana's sips are slow while Amaris takes hers down in three or four gulps. It stirs her from her doldrums.
"That was good," says Amaris, placing the cup on the table. "But I was looking for something a little sweeter."
She looks down at Katana with a different kind of craving. There's a poem brewing in her hazel eyes.
Let the wind flow up your flowery dress, my dear, and shake your petals loose.
Amaris nibbles on Katana's ears and kisses the tightness out of her neck and shoulders. Katana stands up to be face to face with her lover. As they kiss, Katana's nails keep her fingers from slipping down her sweetheart's silk shirt. The blonde's short skirt is snug on her body like a tight pair of shorts but Katana gets her hands underneath and lifts it up to let her wholesome ass breathe.
Katana craves Amaris' milky skin. She slips her shirt off over her bare breasts—bras have no place on a day like this. Katana sits her fine ass on the table, which puts her at just the right height to bury herself into Amaris' bosom.
Amaris unzips Katana's sundress and pulls it down over her stomach. She takes Katana's dark nipples into her mouth as her fingers find her way under Katana's white panties. She pulls down her girlfriend's panties low enough to get her tongue into her wet slit. Katana clenches her dress over her belly button as Amaris continues to lick her pussy and tickle her nipples.
Katana scoots back on the table and opens her legs wide. Her folds stretch out, and Amaris licks her slow and steady, bringing her to an orgasm with the help of two slippery fingers squeezed inside her pussy.
Katana wastes no time undressing Amaris, whose smooth skin around her pussy is divided by the dark shadow of her slit. Katana guides Amaris back on the table. Their naked bodies collide. Katana gazes up at Amaris with wide eyes as she slowly savors her hardened nipples. She moves a hand down to rub Amaris methodically in her wet spot.
Amaris knows what's coming but Katana moves teasingly slow. Amaris is tempted to tug that jet-black French braid to make Katana go down on her, but at this point she knows that patience is a virtue.
By the time Katana's tongue finally lands on her puffy clit, Amaris needs to clamp her hands onto both sides of the picnic table. The orgasmic descent is leisurely but inevitable.
The sweetness of what remains of the day will be measured in wet kisses.
About the author: The Junkman is a contributing writer for the MetArt Network, blending his twin passions for erotic storytelling and high-class porn. He shares a range of musings at JunkPixels.com
If you enjoy erotic fiction and would like to contribute some of your own, you can email it to fanfiction@metart.com. We don't promise to post it in full, but we will pick out the juiciest bits to share! To see more stories and true confessions, check out our free fiction site, MyErotica.com
February 02, 2019 - by: Rose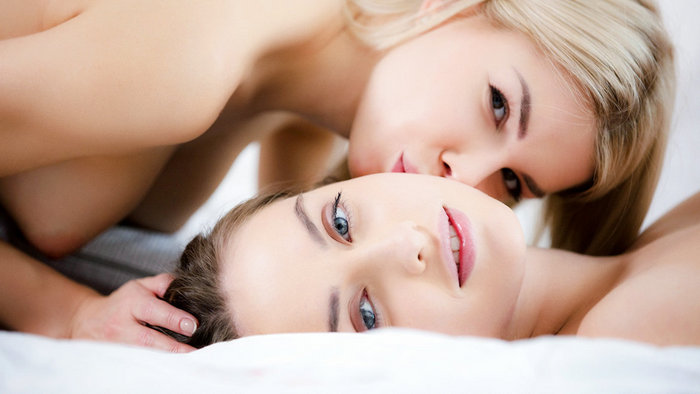 They're two adorable Russian dolls who look like butter wouldn't melt in their mouths – but sweet brunette Lena Reif and sassy blonde Olivia Sin send temperatures soaring when they hook up in Sandra Shine's steamy series "Loving Couples" for Viv Thomas.
At first, 19-year-old Lena looks so demure with her long hair in a braid, but the blue-eyed babe doesn't hesitate for a moment when naughty Olivia starts to kiss and caress her slender, sexy body. Her inner tigress is unleashed when Olivia begins sucking her stiff nipples and then licking her shaved slit; and as the vivacious blonde straddles her face, it turns out she's also a skillful and eager pussy eater.
The two enchanting girls look sensational in a sixty-nine, Olivia on top fondling her big beautiful boobs as she grinds on her girlfriend's face. If you're a fan of seeing lovely lesbians go wild, you won't want to miss it; and if you can't get enough of this super-cute couple, check out their movie "Pool Girls" on SexArt too.
18 U.S.C. 2257 Record-Keeping Requirements Compliance Statement.

Warning - This site contains adult material of a sexual nature - you must be of legal age in your area to view this material.
All materials on vivthomas.com, are copyright © 2019 vivthomas.com. All models were at least 18 years of age when photographed.
0.25.0 4f513b