April 25, 2019 - by: Junkman
Erotic fiction inspired by Blue Angel and Helena Moeller in "Honey, I'm Home"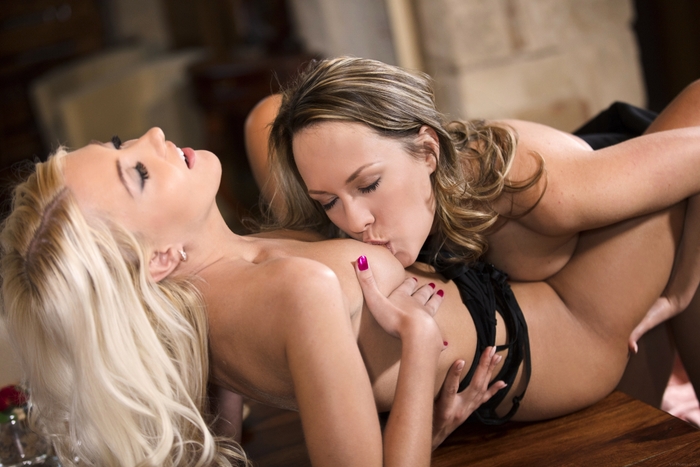 Helena wished she could find a way to rewind the day. Blue Angel woke her up with a kiss on the lips before rushing off to work early in the morning. The floral scent on Blue's neck put Helena back to sleep, but she tossed and turned in bed, grabbing for her angel.
Helena hadn't been able to convince Blue to stay in bed. There was too much going on at work, she said. Helena didn't know how Blue would feel about texts showing how she was enjoying herself, but she was feeling too horny—and a tad passive aggressive—to care. The first picture was a closeup of Helena shaving her pussy in a bubbly tub.
"I'm in a meeting," Blue texted back. But she didn't tell Helena to stop, so the texts continued.
Helena making scones... in the nude.
Helena spring-cleaning... her lingerie drawer.
Helena with a lollipop... slipped inside her slit.
Blue sent one more text that day. "Coming home."
Helena didn't know if they would fight or fuck when Blue arrived. She tried to reset the day with some freshly brewed coffee. The two porcelain cups were still steaming on the table when Helena heard the door open. Blue's heels clicked on the floor like a boss.
There was tension in Blue's face, but it disappeared as soon as she saw Helena sitting at the table in a short silky robe and heels.
She went for the coffee first. "I needed this," she said. "You trying to keep me up tonight?"
"Always," said Helena.
"You've had a fun day."
"By myself, I guess."
Blue could see some illicit material under Helena's robe. "What have we got here?" she said. She pulled the robe open and dropped it to the floor. Helena was wearing sexy lingerie, a black one-piece with a thin string that split through her ass.
"I thought you'd like it," Helena smiled.
"You know me too well," said Blue, leaning back on the table and pulling Helena towards her by her beautiful butt cheeks.
Blue turned Helena around and sat her down on her lap. Her naked skin was soft and smooth to Blue's touch as she kissed all around Helena's neck and shoulders. The strap around Helena's neck was attached to the center of her chest so Blue had to expose one tit at a time. She played with Helena's fat nipples as she moved her hand down to Helena's crotch.
Blue could feel a couple of buttons between Helena's legs. As soon as she unbuttoned them, the tight fabric sprung up over Helena's shaved pussy. Blue rubbed some of her spit into Helena's clit, and Helena held her hand over Blue's as she got a rub down. Her smile was blissful.
"Did you save any lollipop for me?" Blue whispered.
"A few licks," said Helena. "But you'll have to wait."
Helena turned around and put her hands over Blue's black bra, which was visible through her white shirt. "Bet the guys at the office loved this," said Helena, unbuttoning it.
Blue rolled her eyes. "Imagine if they saw this," she said. She lifted up her skirt to reveal that there were no panties under her pantyhose, just a thin strip of pubic hair.
Helena got down on her knees and started to prod Blue's clit with her tongue. But it was like sweets with the wrapper on. Helena pulled the pantyhose halfway down Blue's thighs and got her tongue into Blue's juicy mound. Still, she wanted to go deeper.
Helena stripped off the pantyhose so Blue could spread wide for her relentless tongue. There was one long lick after another, and Helena wouldn't stop until Blue pushed her away as she was cumming.
Blue shifted her attention impatiently. She leaned Helena back on the table and took a seat in a chair, bringing her face-to-face with Helena's pussy. She clamped her mouth over Helena's tasty bits, concealing her twirling tongue.
Helena played with her breasts as she got sucked on, squeezing her nipples between her fingers with the movement of a dull pair of scissors. She locked eyes with Blue until she started to lose focus. Her eyes rolled into the back of her head as she relented to the fire spreading inside.
Blue joined her on the table and they embraced. They tasted each other in their kisses, and wanted only more.
About the author: The Junkman is a contributing writer for the MetArt Network, blending his twin passions for erotic storytelling and high-class porn. He shares a range of musings at JunkPixels.com
If you enjoy erotic fiction and would like to contribute some of your own, you can email it to fanfiction@metart.com. We don't promise to post it in full, but we will pick out the juiciest bits to share! To see more stories and true confessions, check out our free fiction site, MyErotica.com
April 02, 2019 - by: Rose
Download (Right-click save as)
Those of us lucky enough to be acquainted with legendary photographer and move-maker Viv Thomas will be aware that in addition to his brilliance at capturing female beauty, the man is an excellent cook. As well as his encyclopaedic knowledge of wine, Viv has a predilection for all things spicy; and having sampled some of his home-grown chillies on a trip to his villa in Portugal, I can't think of anyone better qualified to combine such diverse but complementary skills in this uniquely inspiring book.
"I'm No Chef But I Can Cook" blends titillating imagery with delicious recipes and entertaining anecdotes to create a feast for the eyes as well as the taste buds. It explores Viv's South African and Portuguese culinary influences and his passion for sensual beauty, all shared with his trademark flair and humor. As Viv says, "We eat with our eyes first."
Get your copy now, with an exclusive discount, and signed by Viv Thomas himself! Just click here and use code MATP at checkout.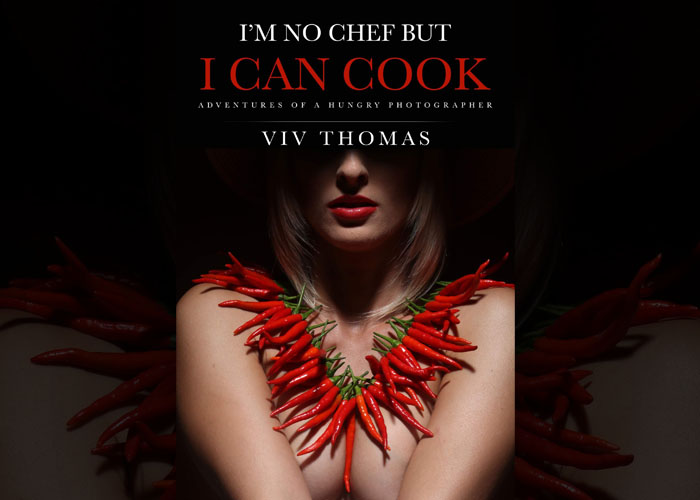 18 U.S.C. 2257 Record-Keeping Requirements Compliance Statement.

Warning - This site contains adult material of a sexual nature - you must be of legal age in your area to view this material.
All materials on vivthomas.com, are copyright © 2019 vivthomas.com. All models were at least 18 years of age when photographed.
0.13.14 f134e5